28th Nov 2023
Notice of Poll
Parent Trustee Election
We have received a good response to our request for applications for the role of Parent Trustee, there is one vacancy and four candidates so we must now hold a ballot.
As there is one vacancy for Parent Trustee, each parent/carer of a student in the school/college has one vote.
The candidate statements are below.
Parents/carers will be invited to vote via Edulink on Tuesday 28/11/23.
Voting will close at 23:55 on Tuesday 5th December
The count will be verified on Wednesday 6th December and the results will be available the following Monday on this page.
If you are a parent/carer of a student at the school/college and are not able to use Edulink, please contact the school on officeadmin@sandbachhhigh.co.uk  
Here is a quick  Link to Edulink
Paper ballots are available on request from the school. Please note you cannot vote by Edulink and via paper ballot.
Ms Senior
Governance Professional
Candidate Statements
Fiona Graveney
I am Co-Director of a consultancy business that specialises in health and safety, green energy, (predominantly offshore), and medical services.

I have a passion for the military and medicine, I used to work clinically within the nhs, working in various departments.

I now work out in different communities offering medical support for events.

I am currently working on a programme to help support local secondary schools to provide first aid training, including CPR and how to use an AED. Helping to spread awareness, build knowledge and break down misconceptions and apprehensions some may have about AED's.

I have a keen interest in fundraising and have worked alongside many charities, fundraising for military charities, mental health, homelessness, food banks and children's charities.

I have been raising awareness and advocating for better mental health care for service personnel/veterans suffering from Post Traumatic Stress Disorders for the last 10 years. I have also worked to break down misconceptions that only men can join the armed forces, emergency services or the trade sectors, by having open and honest conversations about opportunities on offer.

I have a keen interest in education, and a firm believer that knowledge is power. If we can teach young minds to look at all information and encourage their ability to critically analyse and form their own conclusions/solutions to obstacles they may face in life, that is a solid foundation to build from.

I have also enjoyed working with KS2, which prompted me to obtain my teaching level 3 qualification.

Emma Jones
I would like to be a parent trustee as I believe I can add value to the Board of Trustees given my experience in the corporate world and beyond.

I am a partner in the family dairy farm (turnover in excess of £1.8m) and since my graduation, I have worked in the food and drink sector, which included 7 years at Tesco. I am trained and experienced in negotiation, lobbying, marketing, PR, Corporate Social Responsibility and project management. My past roles have also required me to act as media spokesman on TV and radio.

I have been Treasurer for the local pre-school and worked on the bank staff there. More recently I have undertaken the NFU's Farmers for Schools programme and have attended various High Schools to talk about farming and engineering. For both these roles I have been DBS checked and undergone Safeguarding training. I have been an active member on various boards and committees. I currently sit on the Muller Farmer Board and I am Vice President of Haslington WI, helping to organise various fund-raising projects.

Having been involved in the agricultural sector for much of my life, I am particularly interested in STEM, improving IDE and mental health. I am highly motivated, hard-working and creative. I also enjoy baking and craft projects in my spare time. Last year I ran Gingerbread decorating sessions for Haslington's Rainbows, Brownies and Guides groups. I have run the London Marathon twice, raising over £6,000 for Heart UK and MND.

Ruth Williams
I am currently a parent governor of a local primary school, and I co-founded and run a Charity, this has given me many skills that I feel are needed for the role of Parent Trustee. I would like to be a member of this board as I find the strategic side of schools an interesting way of being involved.

Prior to running the Charity, I worked in Children's Services for 15 years, across Social Care, Early Help and Education including Family Support and Learning Mentor. I have good knowledge of how processes work from all sides professionally and personally. I have sat on multi agency boards as a professional but also as a parent representative. We have 5 children/stepchildren spanning the ages of 20-7 years old at a mixture of schools. I am familiar with SEND processes as a parent. One of my daughters attends extracurricular activities at SHS where I meet pupils and even parents and this gives me another point of view of the school.

A big passion is the welfare of students and believe that they deserve the best environment to be educated in. Staff welfare is paramount, if they are not in a good place then they are unable to support our young people and I think that it is important to support all within the school. I am confident to speak up and ask "what about?" questions and challenge something if I feel that it isn't in the best interests of the Young People.

Kian Woodward
I have applied for this role as I would like to play a part in helping the school continue to develop and grow. My eldest daughter has just joined Year 7 and I think her experiences at the school will help in how I understand and am able to deliver the Parent Trustee role. As she progresses through her education it would be great to be involved in helping support the school.

My background is in the nuclear industry and I have held various Commercial and Director roles over the years. I hope my experiences running a business can help support the Sandbach Highschool and the Board of Trustees. In particular I hope I can support them in the areas of finance and budgeting, leadership, contracts management and operational improvement.

I am passionate about embedding diversity into the engineering business I run. Many of the apprenticeships and graduate schemes we offer are STEM roles, in particular engineering roles. In order to support mixed recruitment of engineers we focus on STEM support in Primary schools, Secondary schools and through work experience. We were also a sponsor of the Women In Nuclear Conference 2023, a conference I regularly attend. I believe the equal opportunities for girls leaving school have never been better and I'd hope I could play a part in supporting this for the school and their futures.
Sandbach High School and Sixth Form College Trustees play a vital role in supporting and overseeing the work of the school. 
Trustees have many key responsibilities including overseeing school policies, the school budget and decisions regarding the curriculum. 
Composition of the Board:
Members:
Alan Bell
Gemma Bailey
Patrick Heywood
Paula Jones
Naboth Tinarwo
Trustees:
Alan Bell
Orlagh Cliff
Sue Green - Parent Trustee
Gerry Heath - Vice Chair
Ben Hunt
Sharon Joyce - Careers Link Trustee
David Morgan
Caty Reid - Chair of Board of Trustees / Safeguarding Link Trustee
Matt Snelson - SEND Link Trustee
Ellen Walton - Headteacher
Vacancy - Parent Trustee
Finance and Audit committee (F&A) – Chair – Sharon Joyce  (Alan Bell - Vice Chair) 
Student and Curriculum committee  (S&C)– Chair – Matt Snelson (Orlagh Cliff - Vice Chair) 
Resources Committee (R)  – Chair – Ben Hunt (co-chaired with Gerry Heath)  
Annual declarations of Conflict of Interests and pecuniary interest, roles and term.
Name
Declaration
Role
Term
Mr
Alan
Bell
None
T&M
T- 19/9/19 – 30/9/27
Mr
Ben
Hunt
Has two children attending SHSSFC
T
19/9/19 – 30/9/27
Mrs
Caty
Reid
Governor at Newcastle Academy Sept 2020-Aug 2021

Principle of Clayton Hall Academy

T (Chair)
16/9/22 – 16/9/26

Chair term 21/9/24

Mr
David
Morgan
T
23/10/21 – 23/10/25
Mrs
Ellen
Walton
Headteacher of SHSSFC/ Accounting officer

Trustee for The Cornovii Trust

T
Appointed 1/9/2020
Ms
Gemma
Bailey
M
16/9/22 – 16/9/26
Mr
Gerry
Heath
Company Director Gerrard's Private hire Ltd
T (Vice Chair)
19/9/19 – 30/9/27

VC term

Mr
Matt
Snelson
Has child at SHSSFC / CEO of the Sir John Brunner Foundation
T
1/4/21 – 1/4/25
Mr
Naboth
Tinarwo
Has child at SHSSFC
M
Appointed 23/10/21
Mrs
Orlagh
Cliff
Has a child at SHSSFC
T
23/10/21 – 23/10/25
Mr
Patrick
Heywood
Company Director of UK Grants Ltd
M
Appointed 19/5/21
Mrs
Paula
Jones
Has two children attending SHSSFC / Regional Director of Ormiston Academies Trust
M
Appointed 16/9/22
Mrs
Sharon
Joyce
Company director of SAJ Accounting Ltd and AJWC (Cheshire) Ltd
T
19/9/19 – 30/9/27
Mrs
Sue
Green
Has children at SHSFFC (Parent Trustee)
T
25/6/21 – 25/6/25
T = Trustee
M = Member
Attendance to Board of Trustee Meetings 2022-2023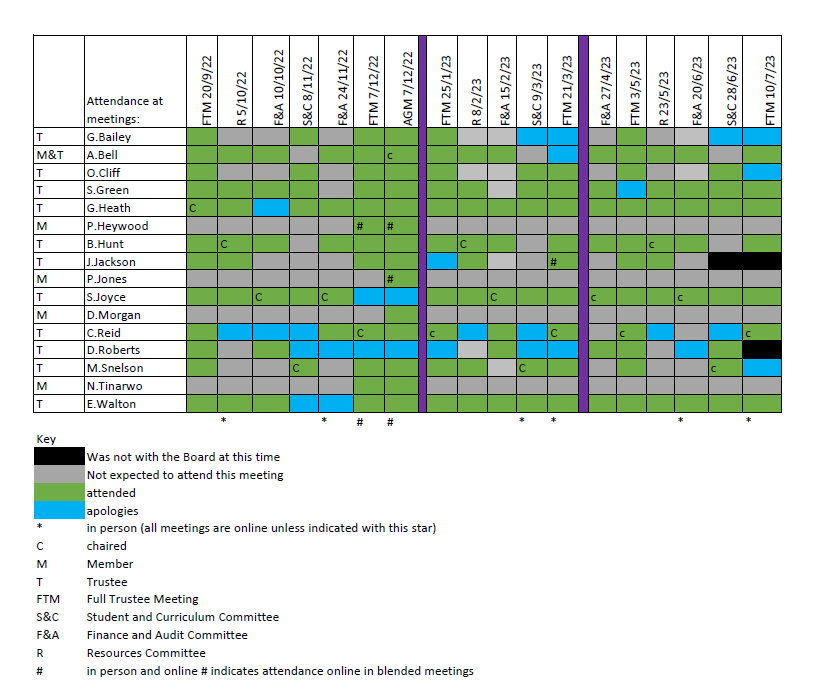 Members and Trustees no longer with the Trust:
Andrew Cliffe - no longer a Member (Left 16/9/22) and no longer Chair of the Board of Trustees or Trustee (20/9/22)
Jan Jackson - no longer a trustee (resigned July 23)
Dave Roberts  - no longer a trustee (resigned July 23)
David Morgan - no longer a Member (18/7/23)
David Morgan - Joined the Board of as Trustee (19/7/23)
Gemma Bailey - no longer a trustee (19/7/23)
Gemma Bailey - Joined the Board as Member (19/7/23)